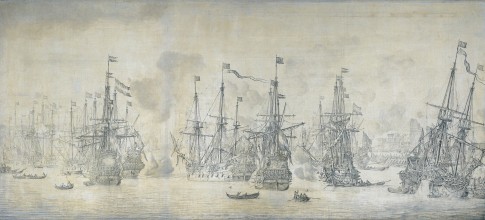 Unsuccessful English attack on the VOC fleet at Bergen, 12 August 1665, by Willem van de Velde the Elder, 1669
(De mislukte aanslag van de Engelsen op de retourvloot in de haven van Bergen)

Rijksmuseum Amsterdam
(Image 48222195 pixels, 3.45MB)

In July 1665 Lord Sandwich, commander of the English fleet, took his ships to the sea hoping to exploit the recent victory over the Dutch at Lowestoft. His two targets were de Ruyter's squadron bound home from West Africa and the Americas, and a rich VOC convoy, which arrived twice a year from East Indies laden with spice, gems and luxury goods.
The English were having their usual problems with victualling, and a long cruising along the coast of Holland was unattractive. Sandwich took his fleet to the north to Denmark-ruled Norway where he expected the VOC convoy to be coming on the route around Scotland on its way home. Denmark was friendly to the Dutch and was obliged to maintain neutrality. The English envoy in Copenhagen, however, reported that King Frederik III of Denmark was about to break his alignment to the Dutch, and was only waiting for a rich Dutch convoy to arrive to one of his ports. The profits from the captured cargo would be shared with the English. At that time a single VOC Indiamen could be worth of £250000, which was a quarter of the English crown annual revenues. The VOC convoy arrived in 1665 to Bergen consisted of 60 ships carrying cargo worth of over 11 million guilders.
Sandwich decided to split his forces and sent 30 of his ships under Sir Thomas Teddiman to attack Bergen. At that time the new orders from the Danish king had not yet arrived, and when the English attacked on August 2nd (Old Style) 1665 they were met with a determined resistance put up by the Dutch Admiral Pieter de Bitter. The Danish commander Claus von Ahlefeldt did not only fail to cooperate with the attackers, instead, the Danish coastal batteries fired upon the English fleet. The attack failed and Teddiman was forced to retreat. The Dutch remained blockaded in the port.
On August 19th a relief force commanded by de Ruyter had arrived. The bad weather made the immediate escape impossible and only on August 30th had the Dutch left the port. Their ships were soon scattered by a gale on the Dogger Bank. Some of them had returned home safely but on September 3rd Sandwich captured total of 27 prizes, including two rich Indiamen. He allowed his unpaid crews to loot them while retaining the lion share of the booty to himself and his captains.
Willem van de Velde was present at the battle of Bergen and recorded it in his sketches. On this pen painting Dutch Indiamen are firing back at the English fleet with Bergenhus fortress in background on the right. On the right one can see the Catharina, one of the Indiamen, repairing the damage to her hull below the waterline. Her captain, Ruth Maximilianesz, is believed to be the commissioner of this painting.