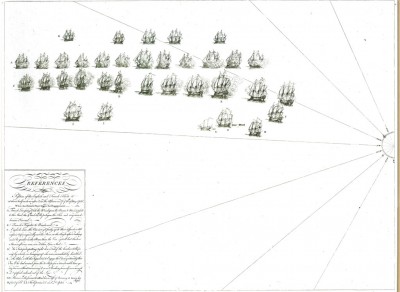 PLAN OF THE BATTLE OF MINORCA, 1756
(Highest available definition 6254×4576)
First blood in the Seven Years War came at the battle of Minorca in 1756. Vice Admiral John Byng was sent to the Mediterranean to reinforce British-held Minorca against a possible French attack. The French landed 12,000 troops in mid April and began a lengthy siege, entirely dependent on sea-borne supply protected by the French fleet under Vice Admiral La Galissonière. Byng's fleet of 13 ships gave him a slight advantage over La Galissonière's 12, but the French easily repulsed Byng's attack. As the British bore down the French crippled them by targeting the masts and rigging before drifting away to leeward, re-forming and repeating the whole process. Byng repaired his damaged ships but made no further move to lift the siege of Minorca which fell soon after. The loss of Minorca deprived the British of a crucial base in the heart of the Mediterranean from where they had been able to watch or attack the French fleet at Toulon.
References to the Plan
Position of the English and French Fleets at about half an hour after the afternoon of 20th of May 1756.
When the French Fleet began the Engagement.
French Line going with the Wind upon the Beam and Main topsails to the Mast, the 4th and 5th. Ships began the Fire and very soon it became General.
French Frigates to Windward.
English Line, the Van not yet fairly up to their respective Adversaries and consequently not the Rear, as the Angle after Tacking must be greater in the Rear, than the Van, yet all but the two Sternmost were even now within the Gun-Shot.
The Intrepide putting right down out of the headmost Ships way by which in bringing up She was immediately disabled.
The Adm. With the Signal out to Engage the Enemy returning their Fire which he had received from the 3 Ships for a considerable time going down without answering it as not thinking himself near enough.
Deptford ordered out of the Line.
G. Phoenix with the Scooner to attend her in case of burning to receive her People.
Chesterfield
I. The Experiment and Dolphin