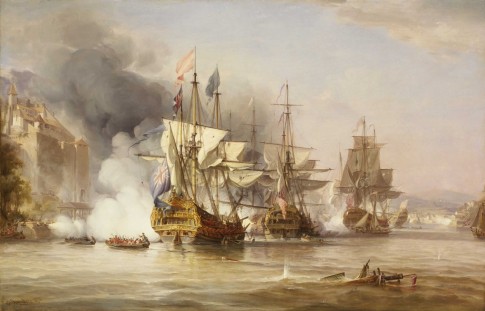 The Capture of Puerto Bello, 21 November 1739
by George Chambers, Senior 1836
National Maritime Museum, Greenwich, London, Greenwich Hospital Collection
(image 2500×1605 px, 192KB)
The attempts of the Spanish Crown to strictly control the trade with its New World colonies had always been met with opposition by European maritime powers. In the beginning of the 18th century the British formed their South Sea Company to exploit a trading concession obtained from Spain after the peace of 1713. Strict conditions of the concession were largely ignored, which led to a semi-legal smuggling trade across the Spanish Caribbean. The Spanish government lacking proper funding could not impose customs control on its own and instead employed private parties as licensed guarda-costas. The latter, given the Caribbean long-time tradition of buccaneering, acted as peacetime privateers living off smugglers. Constant attacks of guarda-costas on the British merchants had been causing public outrage that had finally reached its pinnacle after an incident involving one Captain Robert Jenkins. Having suffered from a guarda-costa boarding party he appeared before the House of Commons driving the British public opinion to a violent agitation. His cause had proven convenient for the bellicose Tory opposition to force the Government to declare  war on Spain, the conflict now known as the War of Jenkins' Ear.
The British had a small mobile force in the Caribbean commanded by Vice-Admiral Edward Vernon who was appointed to Jamaica in July 1739. He had on many occasions publicly declared that he could take a Spanish strongpoint like Porto Bello with six ships, and that was exactly the size of his squadron that appeared before the fortress in November 1739. Porto Bello was a large settlement and a major Spanish naval base in the Spanish Main.
Vernon's attack was carefully planned and brilliantly executed. Only one of two forts guarding the bay had artillery and of 32 guns only 9 were serviceable. After 24-hour siege the Spanish garrison surrendered.  Unfortunately for the British no rich galleon had been found in the port. During a three-week occupation the British destroyed fortification, wrecked naval facilities and disrupted an annual fair, which was a cornerstone of the regulated Spanish commerce in the region.
This painting by George Chambers Senior was commissioned around 1836 by E.H. Locker, Secretary and Commissioner of Greenwich Hospital, who later donated it to the Naval Gallery of the Hospital. The painting shows an episode of the attack on Todo Fierro (Iron Fort) with Vernon's 70-gun flagship Burford in the foreground. Further one can see the 60-gun Strafford and the 60-gun  Worcester. Flying a red swallow-tail pennant 70-gun Hampton Court commanded by Commodore Brown is seen on their right.