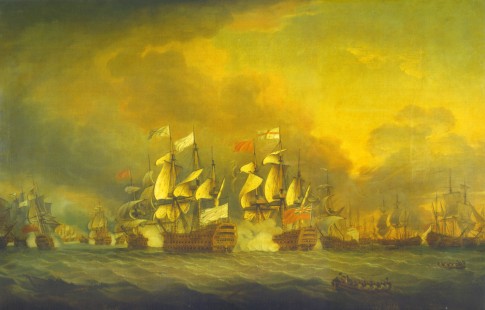 The Battle of the Saintes, 12 April 1782 by Thomas Mitchell, 1782
National Maritime Museum Greenwich
(image 4000×2559 pixels, 10MB)
The Battle of the Saintes was fought between French and English fleets in April 1782 as a part of the conflict ensued after the rebellion in the Thirteen Colonies. A series of engagements took place starting April 9th with the decisive action fought on April 12th. The name Saintes comes from a group of islands between Guadeloupe and Dominica in the West Indies.
In the early 1782 the French and the Spanish had planned a joint invasion of Jamaica. The French fleet consisting of 35 ships of the line commanded by Comte de Grasse sailed on April 8th from Martinique accompanied by a large troop convoy to meet the Spanish forces off Cap François. Admiral Sir George Rodney, commander of the English fleet of thirty-seven ships, followed at once. With a little wind the fleets have been maneuvering and skirmishing for four days. Hectic maneuvers resulted in a number of collisions in the French fleet that cost it ships and time. Finally in one of those collisions Zelé, commanded by Captain Gras-Previllé, was dismasted which brought on the main battle on April 12th.
The two fleets were passing in line on opposite course cowered in the thick smoke from the cannon. A sudden shift in the wind threw both lines into disorder with some of the British ships crossing the French line. This 'breaking the line' much praised later as a brilliant tactical maneuver was in fact unintentional and unfortunate. The British ships around the French flagship were cut and surrounded. The bulk of the French fleet, however, was trapped between the British and the shore and could not escape. In the melee that followed five French ships were taken including the flagship Ville de Paris with Comte De Grasse himself.
Admiral Hood, the second in command of the British fleet, insisted on pursuing of the remaining French ships but the exhausted Rodney who did not sleep for the last four days refused. Still Hood had managed to take two escapees later and the French plans of the invasion of Jamaica were thwarted.
In the middle of the painting the French flagship Ville de Paris, 104, is shown hauling down her colors with the Rodney's flagship Formidable, 98, engaging her from the starboard. Beyond the Ville de Paris the British Barfleur, 98, is seen raking her from the bow. In the reality Ville de Paris surrendered to Admiral Hood, not to Rodney. The painting correctly shows the British ships flying red ensigns, despite the fact that Rodney was Admiral of the White (note the St. George flag on the main mast of the Formidable).  This was the result of Rodney's order to avoid confusion with the white Bourbon ensigns of the French.