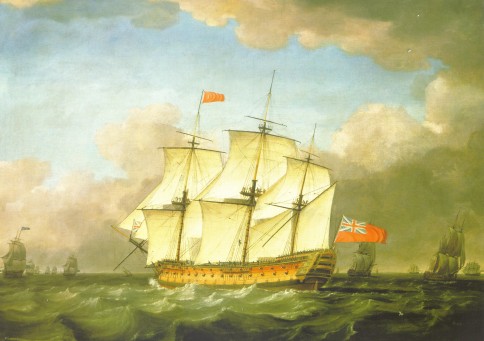 The Victory Leaving the Channel in 1793 by Monamy Swaine, 1795
National Maritime Museum Greenwich
(image 6000×4223 pixels, 19.5 MB)

This painting shows the Victory going to windward down the Channel. In the distance beyond the stern Rudyed's eddystone lighthouse is visible. The ship is flying the flag of Lord Hood as Vice-Admiral of the Red. In 1793 she was bound to the Mediterranean to serve as the flagship at the siege of Toulon.
The Victory is shown as she was built in 1765. In 1780 her hull was covered in 3923 sheets of copper, totaling at least 14 tons of copper and fastenings.
Monamy Swaine was the son of the better-known Francis Swaine and grandson of the even more famous Peter Monamy, and may have been named after him. He was active from about 1769 to 1774 and, if this painting is by him into the 1790s. As an artist he specialized in still-life and genre, although he exhibited two marine pictures at the Free Society of Artists in 1771 and 1772.